Yukaran High

'
Region
Tokyo
Captain
Bhav Byukushi
Coach
Teppei Kiyoshi
Jersey color
Record
N/A
Yukaran High (遺産財団, Yukaran Kōkō) is a high school basketball team in Tokyo where Bhav Byukushi (captain of the Successors of the Miracles) plays. The basketball club was founded at the beginning of the current season by Teppei Kiyoshi so the team only contains first-years. Teppei Kiyoshi also serves as the coach for this team. The club's captain is Bhav Byukushi.
Yukaran High is known for their "Pick and Roll" and "Full Speed" playing style. They are known to be one of the most offensively and defensively balanced teams in Tokyo. Their main line-up consists of "The Magician" Bhav Byukushi, The defensive-duo of Hirato Ming and Yotairo Hanamiya, "The Three-point God Shooter" Guoxing Chen and the foreign exchange student Christian Jones.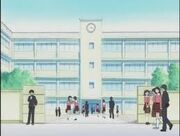 Ad blocker interference detected!
Wikia is a free-to-use site that makes money from advertising. We have a modified experience for viewers using ad blockers

Wikia is not accessible if you've made further modifications. Remove the custom ad blocker rule(s) and the page will load as expected.