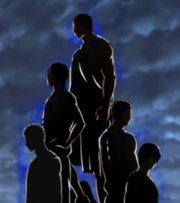 The Royal Emperors is a group of basketball geniuses who are thought to be the only equal of the Successors of the Miracles. Despite being their equals, this group was overshadowed by the members of the SoM. If these players had been born at another time, they would have been hailed as miracles. They're individual skills were overshadowed by the collective efforts of Teiko Junior High. The Royal Emperors are also known as the Divine Kings.
The Royal Emperors were very different than the SoM because they played at different middle schools. Their identities was revealed in the prologue of the new series.
Members
1. Point Guard- Ryūshun Chen
2. Shooting Guard- Guoxing Chen
3. Small Forward- Keiki Teiguchi
Talent: On-Ball Defense and Contested Shots
School: Seiho High
4. Power Forward- Hirato Ming
5. Center- Raven Prince
Talent: Power
School: Yosen High
Ad blocker interference detected!
Wikia is a free-to-use site that makes money from advertising. We have a modified experience for viewers using ad blockers

Wikia is not accessible if you've made further modifications. Remove the custom ad blocker rule(s) and the page will load as expected.