Here you can find the high schools logos and colors for the infoboxes. The logo is going to be placed between the name of the character and the image of the character, just like here: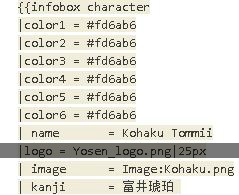 Note: To use these, select "Edit". Copy the code you want to use and paste it in your OC's infobox/profile. Always be sure to leave the page as it was, please. Copy your selected code and then leave the page without saving any changes. Using the "Back" button is recommended.
Note 2:
If you have any questions please ask me on my
Message Wall
.
High School Teams
Major Teams
Junior High School Teams
Major Teams
High School Teams
Junior School Teams
University Teams
Others
See also