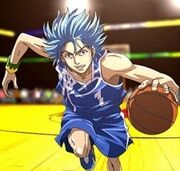 James Willis is an american Basketballplayer who learned professionnally how to play basketball. He plays almost at national level. He came to Japan because he once had a friend who lived there and he wants to find this friend. In addition, he had a strong will to build up a new team, so he chose to go to San Jinsei High School, a small and unknown school. He was a transfer student, so he only came when half of the games were already over. He is San Jinsei High's Ace and Power Forward
Appearance
James has blue middle-long hair, he has a hight of 191 cm and he is pretty strong. He has an amazing ballcontrol.
Technique
Passing: 7/10
Jumping: 9/10
Power: 10/10
Skills
Ad blocker interference detected!
Wikia is a free-to-use site that makes money from advertising. We have a modified experience for viewers using ad blockers

Wikia is not accessible if you've made further modifications. Remove the custom ad blocker rule(s) and the page will load as expected.