Haruyuki Yukino
Name
Haruyuki Yukino
Kanji
柚木野 春雪
Vital Statistics
Gender
Female
Age
15
Height
165 cm (5' 5")
Weight
Unknown
Birthday
May 16th, Taurus
Blood type
AB
Professional Statistics
Team
Shūtoku High
Position
Point Guard
Job
Manager
Talent
Multi-tasking
Memory Strength
Analyst
First Appearance
Seiyū
Vomic
Asami Seto
Anime
Kana Hanazawa
Image Gallery
Haruyuki Yukino (柚木野 春雪, Yukino Haruyuki) is the first year manager of Shūtoku High's boys basketball club.
Appearance
Haruyuki is a pretty petite girl, that stands only 165cm. She has pale skin, an pink spring eyes, and shoulder-length black hair with messy front bangs, which has an few extension on both sides of her face. She usually keeps her hair loose on her back, but while doing club activities or training, she often ties it into a ponytail.
Haruyuki sometime feels uncomfortable with her height
since she always be surrounded by tall people
, and often complains about this fact to her cousin,
Anzai Shirakiin
. And because of this,
Anzai
gave her an
special
nickname that hinting at her small figure. However, outside of her problems, Haruyuki had a curvaceous body, and large breasts for girls around her age, which equal as
Alexandra
's.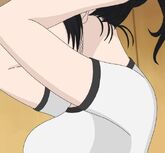 She is usually seen in Shūtoku High's regular uniform: an white sailor uniform with black collar which has a single white stripe, white sailor tie and an black band with a white stripe surrounds the sailor tie, black pleated skirt, over-knee white socks, and dark brown shoes. During trainings, Haruyuki is often seen wears white T-shirt with black rim, short black leggings, and comfortable white-black sneakers.
While going out, Haruyuki prefer wearing simple and ordinary clothes, such as: sundress with knitted cardigan, long-sleeves blouse with pleated skirt, or shirt with jeans pants. And the footwear, Haruyuki likes to wears an converse shoes, or a pair of white summer sandals.
In EXTRA GAME, her hair is longer than before, but she just keeps it loose in left-side. She wears an red plaid shirtdress, knee-length jeans pants, and orange converse shoes, which hinting at Shūtoku High's jersey color.
Personality
[ON PROGRESS]
Background
Here you insert facts about the character's past.
Story
Here you insert facts about your character during the series.
Skill
Training Capability

 

7/10
Analytical Skill

 

9/10
Leadership

 

5/10
Charisma

 

8/10
Feminine Appeal

 

9/10
Physical Ability

 

8/10
Technique

 

9/10
Stamina

 

7/10
Mental Strength

 

9/10
Special Ability

 

8/10
Relationships
[ON CONSTRUCTION]
[ON CONSTRUCTION]
[ON CONSTRUCTION]
[ON CONSTRUCTION]
Trivia
The kanji 春 'Haru' in her name means spring, hinting at her eyes color, and the next kanji 雪 'Yuki' means snow, which hints to her personality at first impression. Her given name itself can be translated into Snow in spring or Spring's snow.
She often chatting with her cousins via phone.
Her favourite color is mint green.
Haruyuki has a grey male cat which she got from Anzai's oldest brother, named Silver.
According to the CHARACTERS BIBLE:

Her motto is: "Silence is golden."
Her favourite food is fish yakimeshi without peas.
Her hobby is decorating stationery and scraping book.
Her specialty is (?)
Her best subject is everything except Mathematics.
She is a member of the Library Committee.
She dislikes slimy animals as she finds them disgusting.
She is afraid of lightning.
The type of guy she likes is someone who is mature and gentle, but can dominating her at same times.
She spends her free time for taking care of her flowers.
Haruyuki's pastime activity on off days was tasting frozen dessert.
The player she has her eyes on is Furuhashi.

Haruyuki share the same seiyū as Kozakura Marry from Mekakucity Actors. She also closely resembles to Anri Sonohara from the li-novel/anime series Durarara!! in terms of personality.
She secretly has a crush on Midorima and thought that nobody realized her special feeling towards him.
Her best move in basketball is stealing without looking.
She started playing basketball after usually accompanying her cousins playing basketball.
Haruyuki is a little bit traumatized if she gets a present from Anzai, since he and his twin brother once gave her a present, which consisted of earthworms and leeches.
Haruyuki says that Anzai looks scary when he calls her without suffix '-chibi'.
In a Q&A section, it is revealed that:

She is an only child.
She is Seijūrō Akashi's cousin.
Haruyuki lives together with her cousin, Anzai Shirakiin.
Haruyuki likes to collecting notebooks and bookmarks.
She is skilled in handicrafts.
Ad blocker interference detected!
Wikia is a free-to-use site that makes money from advertising. We have a modified experience for viewers using ad blockers

Wikia is not accessible if you've made further modifications. Remove the custom ad blocker rule(s) and the page will load as expected.